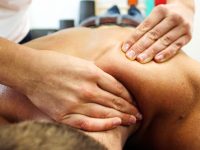 REMEDIAL & SPORTS MASSAGE
Choose 30, 60 or 90 Min Duration
Remedial massage utilises a number of very focused techniques applied to a specific area of the body or muscle group to achieve pain relief, muscle recovery and more freedom of movement.
It involves medium to high pressure with techniques such as trigger point, soft tissue, active resistance and myofacial release with attention on specific muscle groups.
May be combined with other therapies such as dry needling, cupping & aromatherapy.
---
Choose 30, 60 or 90 Min Duration