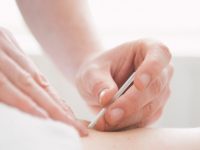 DRY NEEDLING & TRIGGER POINT THERAPY
Dry Needling is a targeted treatment that involves use of an acupuncture needle. Trigger Point Therapy uses ischemic pressure to activate specific locations in an affected muscle.
These forms of therapy are used to release tight muscle bands within the muscle fibers and target trigger points within the muscle which cause pain and discomfort, quickly releasing the tension and increasing mobility and is a very effective means of addressing a wide range of acute and chronic conditions.
Choose 30, *60 or *90 min session – * combined with remedial massage